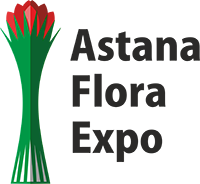 Dear Green Sector Specialists!
We have the honor to invite you to the Republic of Kazakhstan to the International exhibition of floriculture and landscaping "AstanaFloraExpo". The fair will be held in the capital of Kazakhstan Astana in the Exhibition Center Korme, 11-13, April, 2018.
"AstanaFloraExpo" is the only regular specialized trade fair not only in Kazakhstan but also throughout Central Asia.
It gathers on its platform professionals in flower industry and floristics, landscape architecture and design, specialists in garden construction and landscaping.
Annually the largest producers from many countries of the world including Russia, Germany, Holland, Israel, Colombia, Turkey, France and Ecuador   take part in the fair along with Kazakh growers.
Every year  it is visited by top managers and specialists from large Kazakh companies engaged in floriculture, garden construction and landscaping, and by guests from Germany, Holland, Jordan, Iran, France, Turkey, Kirgizia, Uzbekistan, Ukraine, Byelorussia and  many Russian regions.   
About 100 companies participated in its work in 2017 including companies from   Germany, Belgium, Italy, Colombia, Russia, Spain, Poland and Ecuador.
Among its exhibitors there were the largest suppliers of floral and ornamental products, seeds and planting stock, nurseries, garden centers, companies specializing in landscaping and landscape design and architecture, floral design studious.
About 9 000 specialists   from 11 Kazakh regions and 15 foreign countries including Azerbaijan, Byelorussia, Germany, Holland, Georgia, Iran, Colombia, Kenya, Kirgizia, Russia, Turkey, Turkmenistan, Ukraine and Ecuador visited "AstanaFloraExpo'2017".
Participation in "AstanaFloraExpo" is a real opportunity to promote your products and services to a promising   Kazakh market.
You can discuss your participation terms and conditions with organizers both from    Kazakh and Russian sides.
 Exhibition Company "GreenExpo", organizer of the International Fair "FlowersExpo" is being a Russian partner of "AstanaFloraExpo" from its first edition.
We offer any form of participation: direct, indirect, advertising in the exhibition catalogue and at the exhibition, participation in the business program.
Astana is waiting for you! We will spare no efforts to make your participation successful with good commercial results!
We will be glad to see you as an exhibitor and will create all necessary conditions for your productive work.
Our contacts:
Russian Federation
Exhibition Company "GreenExpo"  
Tel.: +7 495 221 12 51
E-mail: mail@flowers-expo.ru
www.flowers-expo.ru
Republic of Kazakhstan
Exhibition Company "Astana Expo-KZ"
Tel./fax: : +7 7172 27 81 81
E-mail: 2@astana-expo.com
www.astanaflorexpo.kz
Welcome you to Kazakhstan for an
important for your business Exhibition
"AstanaFloraExpo'2018"!
AstanaFloraExpo'2018
Photo Gallery
To see the photo report, click here
Video about AstanaFloraExpo-2017
AstanaFloraExpo'2017 economy of Kazakhstan
AstanaFloraExpo-2017 


Photo Gallery
Venue
Exhibition hours
| | |
| --- | --- |
| Date | Working hours |
| 11-12 april 2018 | from 10.00 till 18.00 |
| 13 april 2018 | from 10.00 till 16.00 |
Venue
Kazakhstan, Astana, Dostik street, 3,
Exhibition Center "Korme"