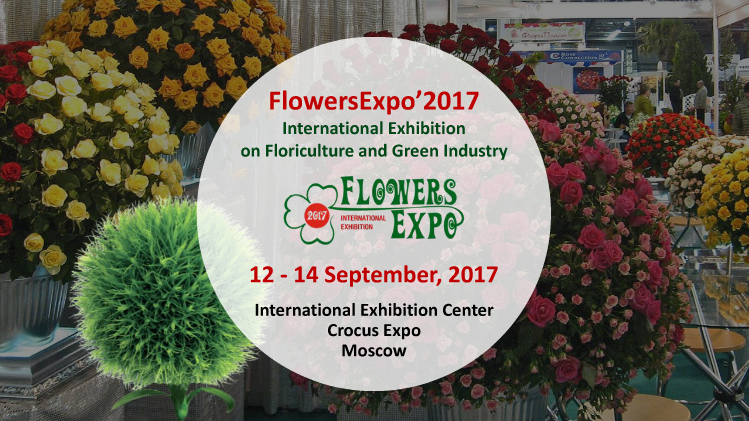 Dear colleagues, partners, friends,
We invite you to "FlowersExpo'2017"! Your participation in this promising project is a confirmation of your sustainable development, maintenance of your positions and market expansion.
Professional community appreciates the show for high concentration of participants and visitors, its effectiveness and representativeness and for wide participation in it of numerous leaders of the world and domestic markets.
Exhibition participants are Russian and international producers of floral and ornamental products, visitors and buyers from numerous Russian regions, cities and town of the Russian Federation and foreign countries.
The exhibition demonstrates dynamic development.
The best Russian producers and suppliers as well as known international companies and the world market leaders displayed in its halls all flower industry, flower business, floristics and landscape design.
Cut flowers, planting stock, breeding novelties and technical developments for greenhouse production and garden construction were particularly widely displayed.
The fact that over 50% of the exhibition area was booked in 2016 during the exhibition period shows the importance of the coming show.
The first ones among applicants were Holland, Germany, Colombia, Poland, France, Ecuador, the world market leaders, countries traditionally organizing at the exhibition their national displays.
Among Russian participants there are producers of cut flowers, seed companies, nurseries, operators and wholesalers of the Russian flower market, suppliers of floristic products, equipment for greenhouse complexes and garden centers.
In the frameworks of the exhibition business program there are conferences, seminars, presentations, round tables, competitions, educational and entertainment events, and the Open Russian Championship on Professional Floristics "Russian Floristic Cup'2017".
Welcome to "FlowersExpo'2017", 12-14 September!
Participation in this project is a wonderful opportunity to widen business contacts and meet with new suppliers and consumers, successfully promote your products to customers of the most remote Russian regions.
We are open for contacts and are ready to discuss optimum terms and conditions of your participation in the exhibition.
You can choose any form of participation: direct or indirect, ads in the exhibition catalogue and at the exhibition area, participation in the business program and other variants.
We will spare no efforts to make your participation successful, and so that the exhibition brought prospects for expansion of your business and good commercial results.
Do not miss"FlowersExpo'2017", the event of the year so important for your business!
Be there where you customers, partners and competitors are!
Documents for participation, exhibition news, list of participants, business program, and online registration are available on the exhibition site:
The feedback from exhibitors FlowersExpo2016 about the service EXPODAT
******************
International Exhibition FlowersExpo'2016.
Results and Prospects
FlowersExpo'2016" in Figures
Photo Gallery "FlowersExpo'2016"
Photo Report
Presentation