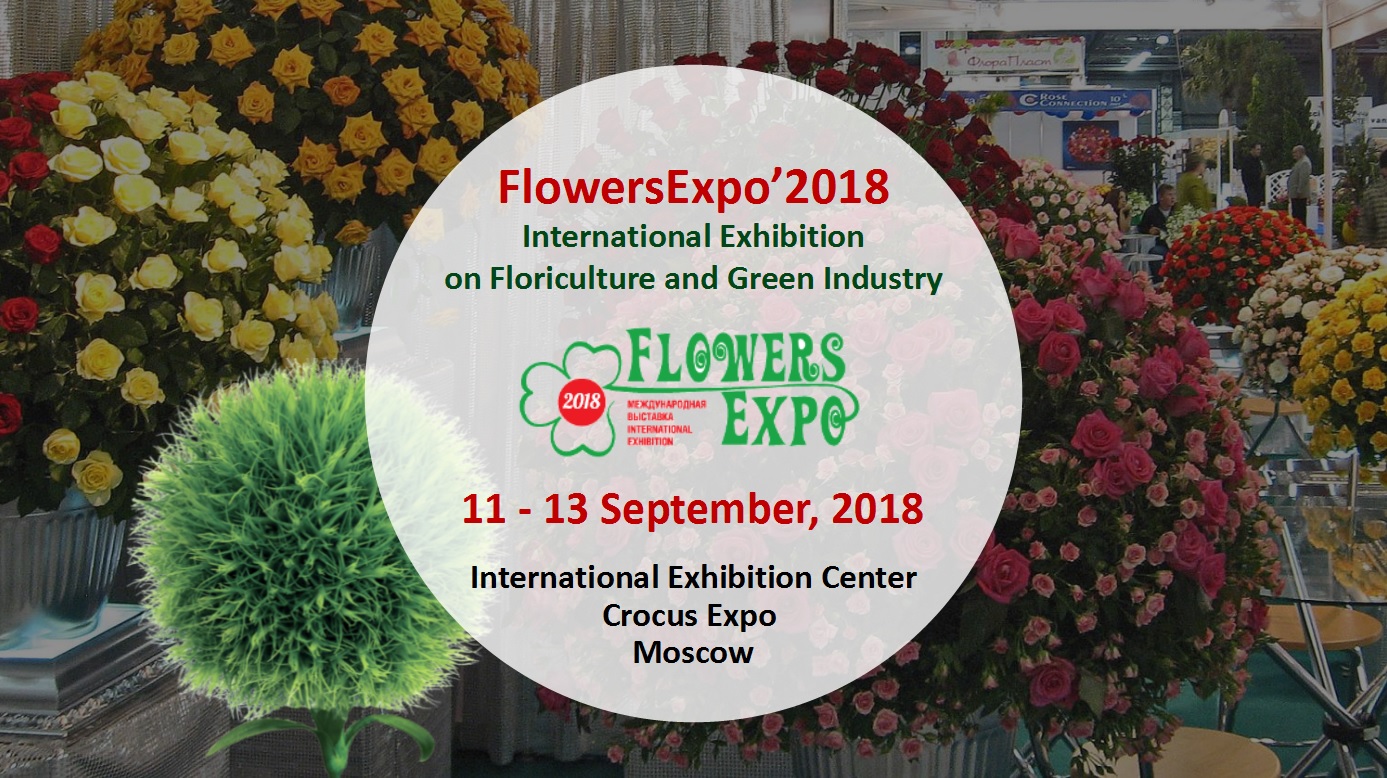 Dear exhibitors and visitors

,

partners, friends!
On September 14 the VII International Exhibition on Floriculture and Green Industry "FlowersExpo'2017" was successfully completed, in which you took an active part.
The exhibition aroused great interest of the entire professional community and brought positive moods to all those who participated in it and who visited it.
Various products were represented at the exhibition by 400 companies from 26 countries, and business visitors came from 190 big and small Russian cities and 44 countries.
Specialists highly appreciated the exhibition for the large number of participants and visitors, its efficiency and wide representation of the leaders of the domestic and world market.
The project was highly appreciated by representatives of the exhibition business.
According to the results of the All-Russian exhibition rating 2015-2016, held annually by the Russian Union of Exhibition and Fairs, "FlowersExpo" ranks best among Russian exhibitions in the categories of Floriculture, Floristics, Gardening and Landscape Design.
In 2017 the Global Association of Exhibition Industry awarded "FlowersExpo" with "UFI Approved Event" label for high level of organization and importance of the exhibition for the world market of flowers and plants.
We thank you for your attention to this important project for your business and invite you to the next exhibition "FlowersExpo", which will be held on September 11-13, 2018.
The importance of the forthcoming exhibition of the 2018 season, both for Russian and foreign participants, is evidenced by the fact that already during its current work, the largest Russian and foreign companies have applied for participation and booked more than 50% of the area.
Leaders of the world market Holland, Germany, Colombia, Poland, France, Ecuador, who are planning to present national expositions of their countries and products oriented to the Russian market, are among the participants of the exhibition.
Your participation in the exhibition "FlowersExpo'2018" is a great opportunity for extensive business contacts and meetings with new suppliers and customers, for the successful promotion of your products to consumers even in the most remote regions of Russia.


We are waiting for you on September 11-13 at the main exhibition of the year in the flower industry "FlowersExpo'2018"!
We will spare no efforts to make your participation successful, and so that the exhibition brought prospects for expansion of your business and good commercial results.
You can choose any form of participation: direct or indirect, ads in the exhibition catalogue and at the exhibition area, participation in the business program and other variants.

We will do our best to ensure that your participation was successful, and the exhibition brought prospects for business expansion and good commercial results!
Do not miss"FlowersExpo'2018", the event of the year so important for your business!
Be there where you customers, partners and competitors are!
The feedback from exhibitors FlowersExpo about the service EXPODAT
Presentation