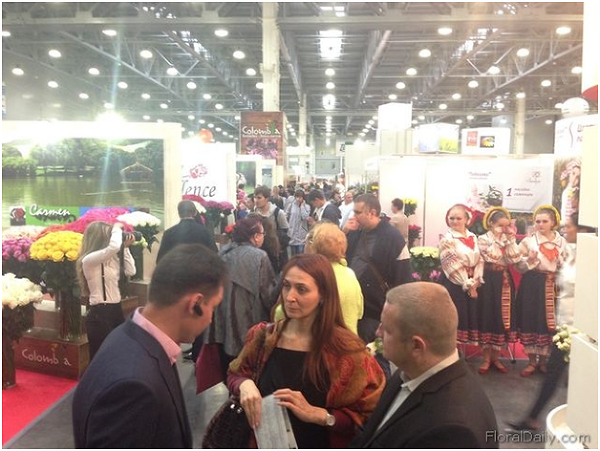 The Trade Fair "FlowersExpo'2018"- Russia, Moscow, Crocus Expo IEC - registration is open. Visiting will help you find new suppliers and partners, take part in business and educational events, will familiarize with inquiries of buyers, and the prospects for the development of the domestic and world market.
"FlowersExpo" project is a significant event for the entire professional community. It allows participants not only to maintain their existing positions, but also to expand their business.
The vast Russian market, which successfully overcomes the consequences of the crisis, remains, despite sanctions, important and attractive for participants in the world flower industry. And confirmation of this is the upcoming exposition of the exhibition of 2018.
The Trade Fair "FlowersExpo" demonstrates stability. 80% of the area as of May sold. The geography and number of its participants expanded, among which companies from 25 countries.
Leading foreign and major Russian companies - producers, importers, operators of the market - will once again present at the exhibition all the variety of products of the green sector.
National expositions are again prepared by the leaders of the world market Holland, Germany, Colombia, France, Ecuador.
Participating in the exhibition are companies of England, Belgium, Belarus, Hungary, Denmark, Israel, Italy, Japan, Iran, Kenya, Korea, China, Kazakhstan, UAE, Poland, USA, Serbia, Thailand, Finland.
The number of Russian participants has significantly increased. These are the largest domestic producers of cut flowers, seed companies, nurseries, operators and wholesale buyers of the Russian flower market, suppliers of floristic products, equipment for greenhouse production and garden centers.
An extensive business program is being prepared, including conferences on topical issues of the industry, presentations, seminars, round tables.
An important event will be the 19th Russian Championship of Professional Floristry "Russian Florist Cup'2018", as well as numerous master classes and flor shows of famous Russian and foreign designers.
The number of interested professional visitors is expected to grow not only from regions and cities of the Russian Federation, but also from many foreign countries.
An important distinction of "FlowersExpo" is that it is the only exhibition in this sector in the post-Soviet space that is visited annually by business representatives and specialists from all former Soviet republics and now independent countries of Eastern Europe and Central Asia.(Visitors Countries 2017)
Do not miss the important for your business the Trade Fair "FlowersExpo'2018"!