Russian Nurseries for Kazakhstan
02.04.2015 11:22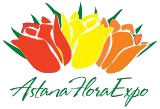 For the first time this year Russian Association of Planting Stock Producers (APSP) takes part in the 6th International exhibition "AstanaFloraExpo'2015", the key exhibition project of Kazakhstan on garden construction, floriculture and landscaping.
On 22 of April APSP will participate in a scientific and practical conference on landscaping and garden construction, an important event for the professional community of Kazakhstan.
Organizers of the conference: Organizing Committee and Russian Association of Planting Stock Producers.
The Program:
Russia Association of Planting Stock Producer for Kazakhstan".
Andrei Sedov, Chairman, APSP of Russia.
Challenges and peculiarities of city territories landscaping, modern solutions, practices of garden renovations, recultivation and creation of comfortable living environment.
Elena Sedova, Professor, Moscow Timiryazev Agricultural Academy, Head, Landscape Construction Section, "Garden Company "Sadko" nursery.
Biological foundations and modern solutions in technology of plant propagation from softwood cuttings.
Andrei Sedov, Chairman, APSP, Candidate of Agricultural Sciences, Director, "Gardening Company "Sadko" nursery.
Plant diseases and pests, preventive measures, protection systems in urban areas and nurseries.
Lidia Seraya, Candidate of Biological Sciences, scientist, Plant Protection Section, The Main Botanical Garden named after N.V.Tsitsin, Russian Academy of Sciences, Head, "Plant Protection Center, Gardenburg" Company".
Alley trees and trees in urban environment. Assortment and role of trees in the urban landscape and ecology.
Irina Savvateeva, Director General, "The Savvateevs Nursery".
Representatives of the Kazakh green sector, top managers of landscape sections of municipal enterprises, producers and suppliers of planting stock of flowers and ornamental plants, trees, shrubs, landscape companies, specialists from design bureaus, building and educational establishments are invited to the conference.
The Organizers are certain that participation of the Association of Planting Stock Producers of Russia in "AstanaFlorExpo" will contribute to strengthening of fruitful cooperation of Russian and Kazakh specialists engaged in this sector so important for the economies of two friendly countries.
Business program of "AstanaFloraExpo'2015" on:
www.flowers-expo.ru / www.astanaflorexpo.kz
FlowersExpo-2020
September 8-10, 2020
Russia, Moscow, IEC "Crocus Expo"
FlowersExpo-2019
September 10-12, 2019
Russia, Moscow, IEC "Crocus Expo"