Modern Botanical Garden in the capital of Kazakhstan
27.11.2014 16:50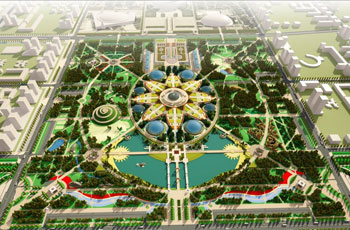 State Botanical Garden with an area of 97.5 ha is being created in Astana by the World EXPO 2017.
Chief architects of the project are Abellonio Pierandrea, world famous Italian architect, and Jean Mus, celebrated landscape architect from France.
The concept of the garden development is to lay down foundation for its development as a leading RD center, cultural, educational and nature conservation institution.
Botanical garden consists of areas open and closed ground.
On-site open ground will grow the following collections of plants. Wood (sheared garden "emotions", a rock garden, garden of stone sculptures); grass (perennial garden and useful plants, garden annuals, garden of medicinal plants, garden crops, flower brook); aquatic plants; flower plantations, arranged by type of historic gardens; historic landscapes, vegetation of Kazakhstan gathered in the collection of climatic zones.
On-site greenhouses will be built greenhouses, where it will grow heat-loving plants.
According to specialists from the design office one of the main architectural ideas is creation of eight large hemispherical greenhouses, different in dimensions and interconnected by crosswalks.
It is planned to build the following greenhouses: "South African Desert", "Tropical Hothouse", "Asian Landscape", "Mediterranean Forest", "Oceania", "Earth and Mother Garden". There will also appear country- gardens: "Iran", "Spain", "Egypt", "China", "Japan", England", "France", "Italy" as well as a garden of annual and perennial plants and stone sculptures.
Institute of Botany and Selection and Botanical Museum will be also located on the territory of the Botanical Garden.
In the frameworks of realization of one of the main conceptual directions, energy saving, the territory of this "paradise" will be equipped with the latest technology. Creating the garden architecture the authors were guided by the principle of unity with nature.
The State Botanical Garden will undoubtedly become a hallmark of the new capital of Kazakhstan.
From materials of: www.astana.kz