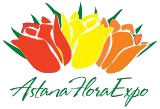 International exhibitionof flowers
and landscape design
International Exhibition "AstanaFlorExpo'2014":
Important contribution in the development of the Kazakh green market
The 5th Jubilee International Exhibition of flowers, landscape architecture and design "AstanaFlorExpo'2014" was successfully held in Astana in the Exhibition Center "Korme", 23-25 April.
Organizers of the exhibition: exhibition companies "Astana Expo KS", Kazakhstan, and "GreenExpo", Russia.
The official support was rendered by the Ministry of the Environment and Water Resources of the Republic of Kazakhstan (Committee of Forestry and Hunting) and Akimat (Mayor's Office) of the city of Astana.
Exhibition sponsor: TOO "3D Flowers KZ".
The largest Kazakh suppliers of cut flowers, garden centers, companies specializing in territories improvement and landscaping, nurseries, companies engaged in landscape architecture and design, flower design studios took part in the exhibition.
Much attention was aroused by the companies operating on the local market: "Astana-Zelenstroy", "Zhasulan-Flora", "3D Flowers KZ", "Nicole", "Astana Begonia", Kaz-Flor Astana", "Green Land", "Invent Plus", "Magnolia Distard", "Our Seedlings", garden center "Euroflora, "Ecoculture" and many others.
For the first time this year there was a presentation of a project of the State Botanical Garden being laid in Astana. Its area will be about 100 ha. It is planned to open the Garden in 2017 during EXPO'2017. The Botanical Garden will, undoubtedly become a bright hallmark of the new capital of the Republic of Kazakhstan.
A distinctive feature of the jubilee exhibition is a significantly increased number of international participants including Russia, Germany, the Netherlands, Belgium, Colombia, Ecuador, Kenya, Lithuania, Czech Republic, Turkey, and Switzerland.
Among international participants it would be fair to mentions a word's known breeding company "Meilland International" (France), nursery "Lappen" (Germany), and "Invos Flowers", cut flowers suppliers from Latin America. They came to the exhibition in its first year becoming pioneers in opening the green market of Kazakhstan for international suppliers.
Russia was presented at the exhibition by producers and suppliers of various products from different Russian regions. Among the participants of the Russian section there were the following companies: "Mostsvettorg" (Moscow), a known flower market operator and the largest Russian importer and supplier of floral products to Russia and CIS countries; ZAO "Fertica", producer and supplier of fertilizers and grounds; "Pelgorie-M" (peat and peat substrates, Leningrad Region); "Gardenzon" (lawn mixes, Moscow); "Flowering Fantasies" (equipment for vertical landscaping, Lipetsk); ZAO SSPP " Sortsemovosch" (selection, production and marketing of vegetable and flower seeds, ST. Petersburg); "Lawns of Pricamie" (roll lawns, Chelyabinsk); "Plodovoe" (ornamental plants nursery, Tyumen); "Stick-Print" (labels for marking seedlings, Moscow); "Forecel" (stabilized and preserves plants, Moscow); "Compass" (agrochemical measuring equipment, Moscow Region).
| | |
| --- | --- |
| | |
A variety of products was demonstrated by German participants. Besides "Lappen" nursery mentioned above among exhibition participants there were also one of the largest German nursery "Bruns "Pflanzen", a world known breeding company "Kordes & Söhne", company "Terracult" (peat and peat substrates), "Herkuplast" (producer of plastic cassettes), "Reinmann Spinnerei und Weberei" (special fabrics for nurseries and greenhouses).
Quality planting stock was displayed by new exhibition participants: Belgium nursery «Arbor Nurseries» and Turkish nursery "Gardensa (ornamental and coniferous trees and shrubs).
"Dekker Chrysanten" (breeder and the largest producer of chrysanthemums) and one of the leading plant exporters "Oz Export" presented Holland at the exhibition.
Flower growers from Ecuador displayed high quality cut flowers. Among them there were such companies as "Qualisa", "Florana Farms", "Impex Flowers", "Quito Inor Flowers", "Sunrite".
Beautiful cut roses were offered to consumers from Kazakhstan by Kenyan company "Sunland".
Czech companies "AROS-osiva" (lawn mixes) and "Avinion" (wild meadow grass mixtures for creation of perennial lawns); Slovenian company "Unehim" (fertilizers); Lithuanian companies "Rekyva" (peat substrates) and "Aris Lt" (fertilizers) participated at the exhibition for the first time demonstrating products which are very popular in Kazakhstan.
The exhibition was accompanied by an extensive business program including conferences, seminars, presentations, master classes targeted at a wide circle of professionals.
Of great interest was a presentation of the project of the State Botanical Garden. The presentation was conducted by the Department of Housing and Communal Services of Astana's Mayor's Office. Representatives of the local company "Emerald City" delivered interesting lectures on peculiarities of landscaping and landscape design in Astana.
For the first time in Kazakhstan in the frameworks of the exhibition there was conducted a presentation of the following Dutch companies engaged in floriculture: "Dekker Chrysanten", "Koppert Biological Systems", "Oz Export" and "Ron Le Poole". The presentations were accompanies by a master class of Jann Kea, a known Dutch florist. The event was organized with a support of the Embassy of the Kingdom of the Netherlands in Kazakhstan.
Presentations conducted by "Lappen" nursery, German companies ("Terracult", "HerkuPlast" and "Reinman") and Russian companies ("Compass" and "Pelgorskoe-M) aroused great interest among specialists.
Floristic program with the Open Championship on Professional Floristics "Altyn Gul" (Golden Flower), its main event, was particularly popular.
"Art Spring – Your Point of View" was the theme of the Championship.
Organizers of the Championship: Exhibition Company "Astana-Expo KS" and Association of Kazakh Florists.
Sponsors: "3D Flowers KZ" (Kazakhstan), "Smithers-Oazis" (Germany and "Lilleball" (Eztonia).
Participants' works were assessed by an independent professional Jury chaired by a known Russian florist Sergei Karpunin, the judge of the International Organization of Florists FLORINT.
Nina Minkinen, President of the Finish Association of Florists, Finish champion in 2001 and 2010, Natalya Mikhaleva (Estonia), Director of the International Competition of Florists "Tallina Lilleball", and Zoya Norbutaite, Russian champion on floristic in 2013, were Jury members.
Marina Shipovskaya, florist from "Nicole" flower company (Astana) won in the Kazakh Championship on Professional Floristics for the second year running.
Traditional shows organized by "Dekker Chrysanten BV" (Holland) and joint master class of known florists Sergei Karpunin (Russia) and Nina Minkinen (Finland) on the theme "Frame and Wedding Bouquets and Accessories" were particular popular as usual.
In the frameworks of the exhibition there was organized a meeting of Kazakh florists with their foreign colleagues where specialists discussed not only pure professional issues but also trends of the world's floristics and development of floristics in Kazakhstan.
Simultaneous holding of a partner's project "Village'2014", the 1st International Kazakh exhibition on cottage construction and landscaping, which demonstrated modern ideas for low-rise construction and landscaping, attached special importance to "AstanaFlorExpo" show, synergic effect and opened new horizons for gathering professionals both in the field of flower industry and floristics and specialists in the field of landscape construction, architecture and design on one and the same venue.
Over three days the exhibition was visited by over 7 000 people, the majority of them being specialists and businessmen.
Among visitors there were also top managers and dealers of large Kazakh companies involved in floriculture and landscape design, specialists from Azerbaijan, Germany, Holland, Denmark, Italy, Turkey, Ukraine, Ecuador, Asian countries and Russia.
International exhibition "AstanaFlorExpo" is a successful business platform for professionals of the "green business" and a significant event in the life of the capital of the Kazakh Republic.
See you at the 6th International exhibition of flowers, landscape architecture and design "AstanaFlorExpo'2015"!