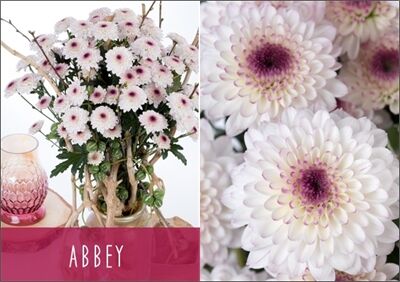 Participants of Trade Fair "FlowersExpo", the company Zentoo, announced the start of sales at auction of new variety chrysanthemums Abbey. The author of the new variety is a well-known breeding company with a world name Deliflor Chrysanten, which also annually participates "FlowersExpo" and presents its new amazing varieties to Russian consumers, including those dedicated to Russia - Gagarin, Gagarin Lunar, Siberia, Alenka.

Chrysanthemum, in opinion of the Dutch partners, is a very popular and favorite flower in Russia. They also note that, following global trend, smaller spray chrysanthemums and santini have become increasingly popular in the Russian market in recent years.



Zentoo's booth at FlowersExpo in Moscow.

The beautiful decorative flower of Abbey has an appealing colour: the white petals have a refined purple edge and a dark purple heart. Recently, Zentoo has already supplied Abbey successfully in small amounts in an exclusive Quantum Box. Zentoo will now supply 15.000 stems per week.

Previously, Zentoo had already offered Abbey chrysanthemum, but in limited quantities as part of the Quantum box on its website. Now, starting from the 9th week, sales of Abbey bush chrysanthemums at the auction will amount to 15,000 stalks weekly. Vbn-code: 121132.