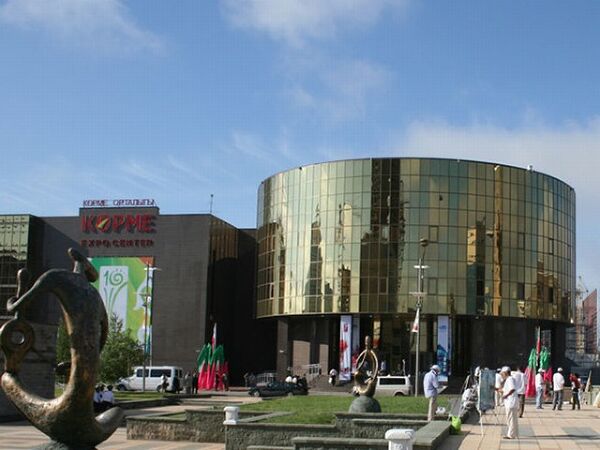 The 9th International exhibition of floriculture and landscaping "AstanaFloraExpo" will be held in Astana, the capital of the Republic of Kazakhstan, 11-13 April 2018.
"AstanaFloraExpo" is the only regular trade exhibition held in Kazakhstan and throughout Central Asia.
It brings together professionals of the green sector, flower industry and flower arrangement, landscape architecture and design, specialists in garden construction and landscaping.
The exhibition has made considerable contribution into formation of this sector of economy and flower business of Kazakhstan. There appeared not only large flower market players, but also experienced floristic and landscape companies as well as domestic producers of floral and ornamental products, professional landscaping companies.
Annually the largest producers from many countries of the .Every year it is visited by top managers and specialists from large Kazakh companies engaged in floriculture, garden construction and landscaping, and by guests from Germany, Holland, Jordan, Iran, France, Turkey, Kirgizia, Uzbekistan, Azerbaijan, Georgia, Ukraine, Byelorussia and many Russian regions.
About 100 companies participated in its work in 2017 including companies from Germany, Belgium, Italy, Colombia, Russia, Spain, Poland and Ecuador.
About 9 000 specialists from 11 Kazakh regions and 15 foreign countries visited "AstanaFloraExpo'2017".
Participants noted the high business and professional level of the exhibition visitors. Their interests: flowers – 51%; nursery products-19%, accessories of floristics – 16%; seeds, soils, fertilizers – 14 %.
Trade Fair "AstanaFloraExpo" - perfect for your business platform.
Participation in "AstanaFloraExpo-2018" is a real opportunity to promote your products and services in the promising Kazakh market, expand customer base and increase sales result, perfect for your business platform.
Your participation terms and conditions can be discussed with organizers of both Kazakh and Russian sides.
Exhibition Organizers of the Trade Fair «AstanaFloraExpo»:
Russia. Exhibition Company "GreenExpo" www.flowers-expo.ru
Kazakhstan. Company "Astana Expo-KZ" www.astanaflorexpo.kz
The flower market of Kazakhstan is waiting for your suggestions.
Welcome you to Kazakhstan for an important for your business
Exhibition "AstanaFloraExpo'2018"!