Address:
Mezhdunarodnaya str. 16, Krasnogorsk, Krasnogorsk area, Moscow region.


Exhibition ЦветыЭкспо / FlowersExpo is held in the International Exhibition Complex (MVC) "Crocus-Expo", the most modern exhibition complex in Russia with a developed infrastructure. At present it is one of the largest and most perspective fairgrounds in the world.
Optimum conditions for holding large international exhibitions were created there. Participants are provided with excellent opportunities to most efficiently introduce themselves and their products to get high commercial results.
MVC "Crocus-Expo" is a member of the Russian Union of Exhibitions and Fairs, the Moscow Chamber of Commerce and Industry, the Guild of Exhibition and Fair Organizations as well as a member of the International Association of Congress Centers (AIPC) uniting over 150 largest congress сenters of the world. Membership in AIPC is a peculiar quality mark being an evidence of the fact that services provided there are complying with high international standards.
In its three Pavilions with a total area of over 500 000 sq.m there are nineteen exhibition halls equipped with the world latest technology, 49 Conference Halls with all necessary equipment for holding congresses, presentations and seminars and Crocus City Hall, ultramodern congress and concert hall for 6 200 seats, and meeting rooms.
"Crocus-Expo" has a developed infrastructure: "Sberbank" branches and "Crocus Bank", service centers, food-courts, cafes and restaurants, wardrobes, customs post, taxi and rigging services.
For the convenience of visitors there are covered walkways between "Crocus-Expo" Pavilions equipped with moving walks.
In 2009 right on the fairgrounds there was opened a new metro station "Myakinino" (Arbatsko-Pokrovskaya line). And now transportation to the center of the capital is quick, convenient and affordable.
In front of the complex there is a free parking lot for 20 000 parking spaces, and the third Pavilion also has an additional underground parking for 6 000 cars.
Participants of the exhibition will have neither to waste time searching for hotels nor to pay for expensive accommodation. A comfortable 3-star "Aquarium Hotel" located on the fairgrounds offers 225 rooms in different categories.
By car: 
Outer side of Moscow City Motor Ring (66 km) – exit to Crocus City territory after Volokolamskoe shosse, direction sign "Crocus City".
Internal Moscow City Motor Ring (66 km) – exit under the bridge before Volokolamskoe shosse, direction sign "Crocus City".
By public transport:
Myakinino metro station – exits to Pavilion 3 or to Crocus City territory.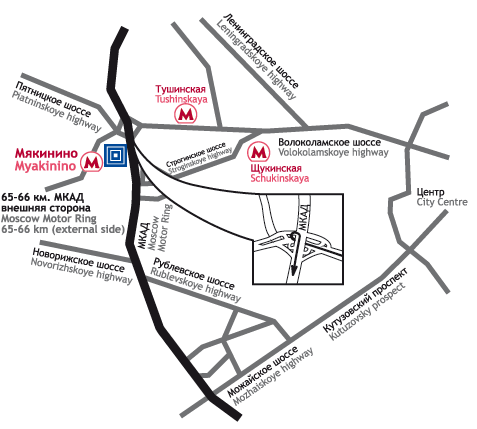 Russia, 143400, MVC «Crocus-Expo»
Tel/Fax: +7 495 118 06 39
Cell.phone: 8 (915) 185 79 03
E-mail: mail@flowers-expo.ru