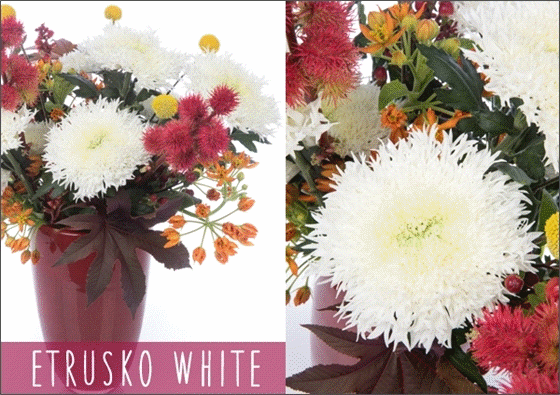 The Dutch company Deliflor Chrysanten, the largest producer and chrysanthemum breeder in the world, annually presents its magnificent varieties in Moscow at the Trade Fair "FlowersExpo."
Etrusko will get a new family member in the midst of week 3: Etrusko White.
The extraordinary appearance of the variety Etrusko has not stayed unnoticed since it has been introduced. It is not surprising that this soft, cuddly flower with its frayed petals will also appear in white.
The large flower of Etrusko White keeps on growing when put in a vase. The appearance of Etrusko keeps changing, so this flower keeps surprising! Trading companies already appreciate the Etrusko variety for its excellent transportability and long vase life. Naturally, this also applies to the white variety.
• Supplier: Arcadia Chrysanten
• Amounts: approx. 3000 stems a week, increasing to 7000 stems
• VBN-code: 120477