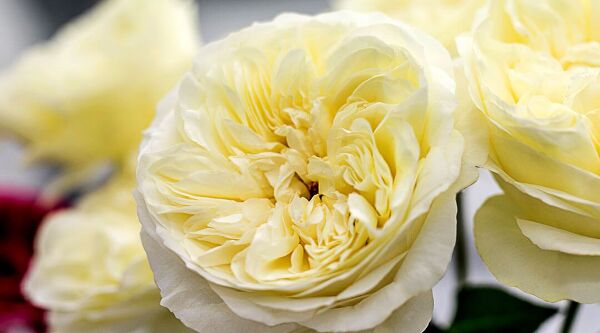 The known British breeding company "David Austin Roses" will again present in September 2018 its remarkable roses in the Crocus Expo at the Trade Fair "FlowersExpo". It is not only beautiful garden, but also luxurious English gift roses.
Specialization of the company is the creation of varieties with the features and aroma of ancient garden roses, but they blossom more than once in a season and are resistant to diseases and with a wide range of color shades.
Officially registered more than 200 varieties of British roses David Austin, Each year they add 4 - 6 new varieties. This is one of the most successful commercial breeders. Branches of his cattery are located all over the world. The company annually sells more than 4 million seedlings.

Among the latest novelties surpassed all expectations of the breeder rose "OMG". It is not just white. Color it is very difficult to describe, because it varies between apricot, orange and yellow. But this variability in color is part of its general charm and something else, gifted to the new variety by nature. The variety is ideal for any holiday event.
The variety is characterized by its natural attractiveness, durable and excellent aroma. The company believes that this is the next queen of wedding roses and perhaps the ideal offer for a future royal wedding.
The company "David Austin Roses" invites business partners and fans September 11-13 to the Trade Fair "FlowersExpo-2018".
On its stand again will be presented fragrant collection of magnificent English roses. Well, maybe - the new royal wedding brand "OMG".