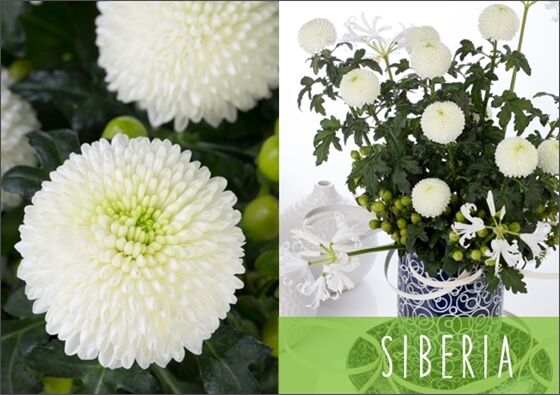 Chrysanthemum in honor of Siberian
Famous breeders of chrysanthemums from the company Deliflor bring to the market another novelty Siberia. This name of the variety is not chosen by chance. The beauty of Siberia is associated with strong Siberian frosts, ice and snowy landscapes of Russia.
Chrysanthemum has a strong and white like a Siberian frost and a snow flower. Well tolerates transportation and long time in a vase. The green core only adds to it a feeling of frosty freshness. The variety of Siberia is well distinguished among a wide segment of white chrysanthemums.
Siberia is not the first variety of Dutch breeders, in whose name the Russian theme is. At Trade Fair FlowersExpo in 2014 they represented a snow-white large-flowered chrysanthemum Gagarin. In 2017 this line was added a new variety of yellow chrysanthemum, also named after Yuri Gagarin – Gagarin Lunar. In Russia, very much like chrysanthemums from Deliflor, and for these varieties special thanks!
For the attention of Russian fans and consumers! Deliflor Chryzanten will present its famous chrysanthemums on September 11-13 at Crocus Expo IEC at the Trade Fair FlowersEspo'2018.
And on April 11 - 13 in Kazakhstan at Trade Fair AstanaFloraExpo.

 Grower: Zentoo
• Amounts: approx. 9.000 stems a week.
• VBN-code: 121311