It's a wrap. The FlowersExpo2018 ended yesterday and the exhibitors and visitors are on their way back home. When hearing the sounds from the show floor, it seems to have again been a busy show with a good number of visitors. The days of the exhibitors were full of meetings and they all see a high potential to grow in this country. 

Russia is a flower-loving country and every year, this is clearly visible at the shows. Visitors are eager to discover new varieties and loads of pictures have been taken. It gives exhibitors a good impression of what's hot and not, and in turn what varieties they should continue with on this market.

Even though with the big potential, it is a challenging market to operate in at the moment. The ruble devaluated and on top of that, payments are not always made on time, due to some restrictions from the government.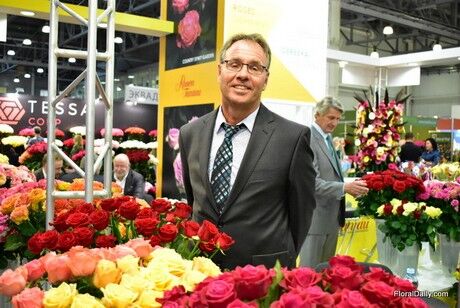 КLaus Wolf of Rosen Tantau sees the Russian market growing. "They love roses and red is still the most popular color (40%) followed by white (20-25%).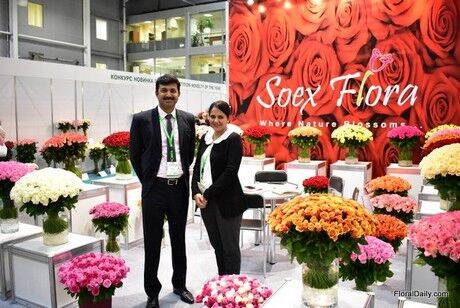 The only Indian rose farm at the exhibition; Soex Flora. After a two year break, Narendra Patil and Dolly Mahawar were back at the show with a booth. "We received a lot of inquiries at last year's IFTF in Vijfhuizen, the Netherlands and we therefore decided to exhibit at this show." At the show, they received positive and surprised reactions. "Visitors are surprised to see an Indian rose farm here".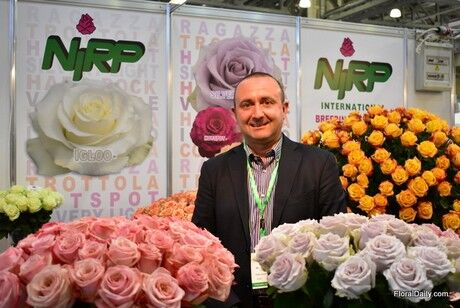 Alessandro Ghione of NIRP notices that the market is back on different price levels. Over the last three days, he received many visits from Russian growers who are changing their crop and are looking for new varieties.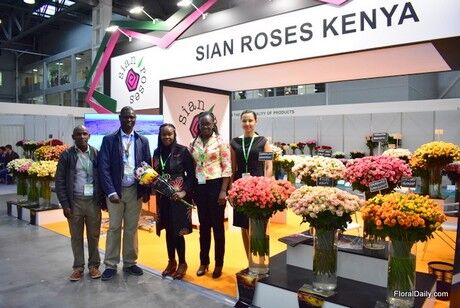 The team of Sian Roses presenting a newly branded sleeve. The team of Sian Roses from Kenya is very optimistic about meeting with Russian partners, who were interested in the presented new line of their roses.
Mauricio Danies of Milagro presenting their new refreshed image, but also their new product Ranunculus. Their main product is still cut roses, and they have the exclusive right to produce Explorer in Colombia.

Based on Floral Dealy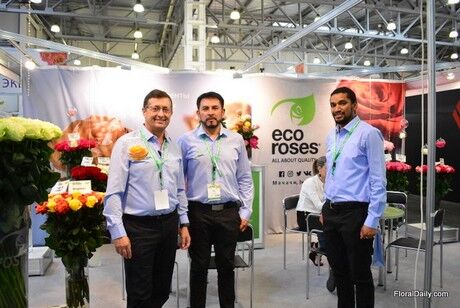 The team of Eco Roses. Over the last years, this Ecuadorian rose grower reduced its exports to Russia, but it is still an important market to them; around 30 percent of their production volume goes to this market.