Russia is eager to become a more self-sufficient country. Imports need to go down and national production up. Several growers that were exhibiting at the FlowersExpo Moscow are expanding or planning to expand their greenhouses. In turn, the breeders at the show also see an increasing interest for their varieties from the Russian growers.
"Like four years ago, we showcased our varieties mainly to the florists and importers and directed them to the farm where they could order them. This year, we see an increasing interest from the Russian growers", says one of the exhibiting breeders.
Also the number of growers in Russia seems to be growing. "In the last five years, the quantity of farms has grown, and it is now bigger than 10 years ago. Every year, new producers and farms pop up", a Russian grower tells us. In order to make this all happen, growers receive financial support from the government.
And this development seems to bring opportunities for the Dutch as well. "In order to produce a good quality product, many growers invite Dutch horticulturalists for advice", the grower continued. And Dutch Agricultural Counsellor Meeuwes Brouwer confirms it. He informed us that the drive to become more self-sufficient results in a need for Dutch knowledge, products and techniques. "The demand for Dutch starting material, for example, increased by 25%."
Even though there's been an increase in growers, the imports have not decreased over the last year. The Dutch export numbers show that the export of flowers, plants and bulbs increased by 13 percent this year, to 200 million euros. It once again established the fact that Russia is a flower/plant loving country and that there are plenty of opportunities to grow in this market in so many segments.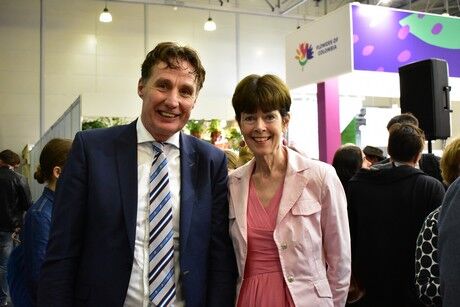 Agricultural Counsellor for Russia and Kazakhstan, Meeuwes Brouwer, and the Dutch Ambassador in Moscow Renée Jones-Bos.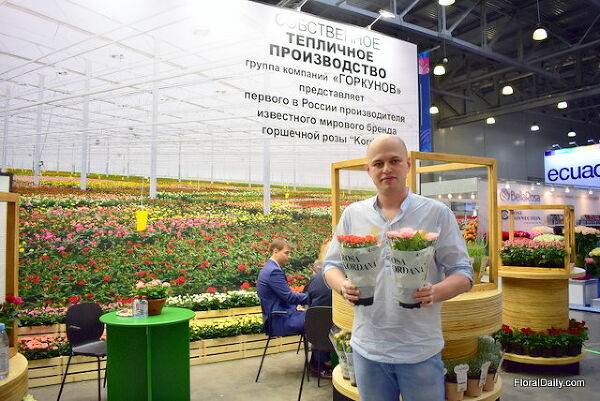 Russian grower of potted roses Denis Kolpakov from Yaroslavl presenting two of their twelve Kordana varieties, which they grow in a 1.6 ha greenhouse. Next season they are planning to open two new greenhouses.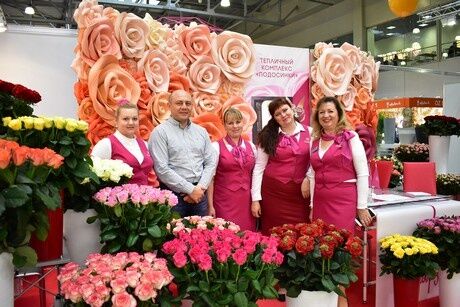 The team of Greenhouse complex Podosinki, Moscow region.They grow cut roses in a 9ha greenhouse and are planning to increase their acreage under glass.
Evgenia Babicheva of Russian cut rose farm Zheleny Dom. Over the last few years, they increased the number of rose varieties and are also planning to expand the greenhouse in the near future.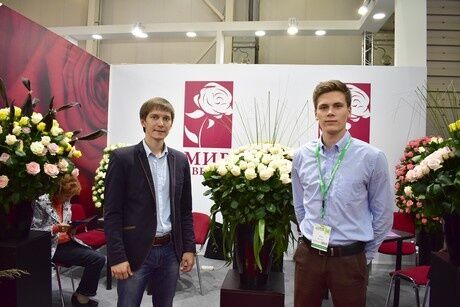 Representatives of company " Mir Tsvetov" from the Republic of Mordovia told that the greenhouse complex "Mir Tsvetov " is one of the largest in Russia, built by Dutch specialists for growing roses for cutting in protected soil. The capacity of the farm is up to 30 million roses a year. In 2018, the construction of new greenhouses. In 2018, the construction of new greenhouses on an area of 3 hectares is completed, which will significantly increase production.
Floral Daily.