FLOWERS & GARDEN EXPO UZBEKISTAN is a new exhibition of flower, garden industry, landscape design and architecture.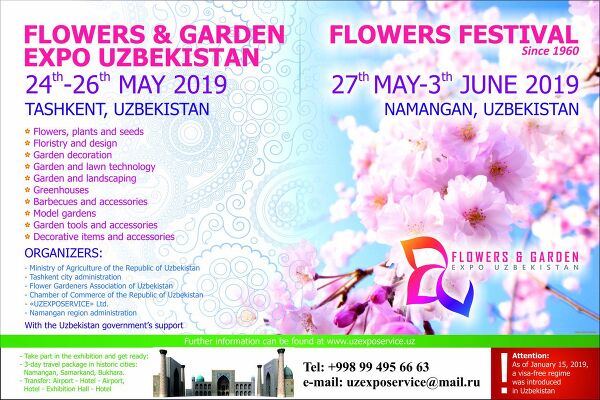 The event will be held from May 24 to May 26, 2019 at the Uzkurgazmasavdo exhibition complex in Tashkent, Uzbekistan.


The exhibition is organized by the Association of Florists of Uzbekistan, the Chamber of Commerce and Industry of Uzbekistan, the Ministry of Agriculture of Uzbekistan, Uzexposervice, Uzkurgazmasavdo.
Dear businessmen, we invite you to become a participant of the Exhibition.
Do not miss the new growth opportunities for your business in the promising and fast-growing market of Uzbekistan with more than 33 million people.

Detailed information by phone: +998 (99) 495-66-63
E-mail: uzexposervice@mail.ru
Website: uzexposervice.uz