Conference on flower business "FlowersConf 2019" was successfully held in Moscow, 4-5 April.
Organizers: Exhibition Company "GreenExpo", organizers of the international fair "FlowersExpo"; "Inspiro", developer of software for online shopping; Internet Portal "Iamflorist.ru".
Sponsors: companies: 7Flowers-Decor(Russia), Astra Fund, Dekker Chrysanten (Holland) and Smithers-Oasis (Germany).
Information partner: "Flowers" magazine.
This important business project was organized by numerous requests of the participants of the first conference held last September within the frameworks of the international fair on flowers and plants "FlowersExpo'2018".
International fair "FlowersExpo2019", scheduled for 10-12 September (in Crocus Expo) will focus on global issues of flower business, new trends in the world flower industry and development of the Russian flower market.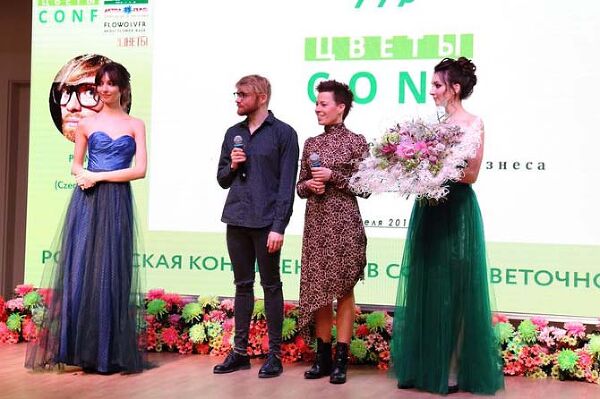 150 people (offline) and over 260 participants (online) from Russia, Kazakhstan, Uzbekistan, Byelorussia, Holland, the Czech Republic and Poland took part in "FlowersConf 2019".
Among them there were owners and top managers of flower shops, floristic salons, experienced florists and beginners, flower companies and those who are just planning to work in flower business.
Two-day conference included 22 reports, 5 business blocks, 4 master classes on advertising and analytics, 4 floral master classes and two shows.
All speakers of the conference are successful businessmen in flower sphere. It was the basic value of the conference and its main difference with numerous similar business projects.
The first conference day was devoted to "Business and Advertising".
Elena Savina, expert in organizational consulting spoke about how to recruit and motivate personnel, to delegate authorities and formulate tasks so that they are implemented.
Danila Bykov, co-owner, "Polytsvet", highlighted modern trends in flower business.
Veronika Belikova, owner and CEO of the largest regional floristic chain in the Chuvash Republic, shared her secrets how to remain competitive.
Great interest was generated by Elena Arkhipochkina's speech on branding and naming.
Marina Kornushina, conference moderator and business coach, spoke about floral business formats and its structuring.
Panel discussion on combination of online and offline sales, round table on advertising in social media and Yandex, examining concrete cases made the conference even more dynamic. Experts and practitioners: Pavel Mordakov, Yandex advertising specialist, Andrei Shandrigors, Internet marketer and Ilya Slusarev, promotion specialist in SMMplanner, took part in the discussion.
Alexander Krasnoborodko, one of the authors of INSPIRO platform and moderator of this block, closed the session at a round table discussion "Advertising - Trade Motor".
The conference format contributed to active networking. There were discussions, participants asked provocative questions and did not let the speakers leave the stage for a long time.
The second day session held under the motto "Business and Creativity" covered an extensive range of themes starting from experimental floral design and interior compositions to creative flower and gift packaging. It was a day full of inspiration and unforgettable impressions.
Presentations made by top managers and executives from known and successful companies (Olga Gor,ak (7Flowers-Décor), Marina Bulatova (Floristic School "Nicole"), Elena Skripova (event-agency About your Décor) and Igor Mikhnevich (creative workshop "Sozdatel"), were completed with master classes of florists, winners of Russian and international competitions.
Anastasia Shekherina, Russian Champion in Floristics, demonstrated modern materials and trendy techniques for bouquet packing.
Artem Salmin showed how to combine live and artificial materials with cut and pot flowers in compositions for large event projects.
Daniil Borisov reported on modern floristic trends in designing various events.
Andrei Kalashnikov's master class and his unique spellbinding innovative bouquets drew particular attention of the audience.
Business reports and floral shows successfully complemented each other.
The theoretical part of the conference concluded with an inspiring speech about love, team relationships, atmosphere at home and at work, by Daniil Berg, one of the most popular local designers and a significant figure in the Russian fashion industry.
The conference ended with a large floral show. Our star guests Premysl Khitych (the Czech Republic), one of five leaders in the World Champion 2019, and Silvia Bednarek (Poland), floral design teacher at Warsaw University, plunged the participants into the atmosphere of the high-fashion world.
Over two days the participants discussed different flower business facets.
The event of such format that brought together so many professionals was held for the first time, and according to participants became a landmark event of the industry.
Successful combination of business and creative activities enabled to reveal many secrets of the thriving floristic business. Topical and interesting program of the conference, professional speakers, master classes and floral shows made a real holiday out of this business event.
According to the participants the conference should be made an annual event.
The next conference is tentatively scheduled to be held in April, 2020.
Detailed information and "FlowersConf 2019" materials are available in the Exhibition Company "GreenExpo".
Contacts:
Tel.+7 495 221 12 51.
E-mail: mail@flowers-expo.ru