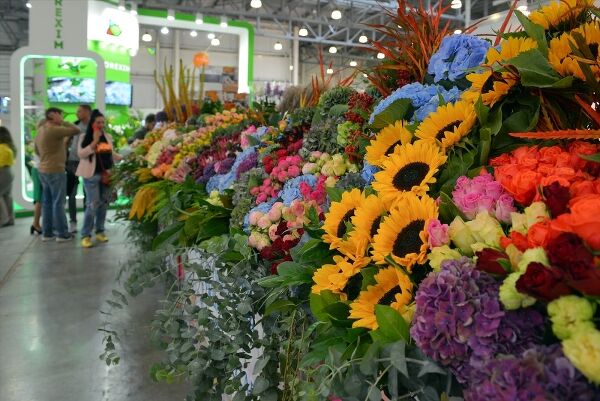 Russia is the world's largest consumer of cut flowers. Experts include her in the top six import countries after the United States, Germany, the Netherlands, Britain and France. And the real capacity of the Russian flower market continues to be estimated by analysts at $ 40 billion.

At the Trade Fair " Flowers Expo" , for the last time, the issue of the state and development of the flower market in Russia was discussed in 2015. At that time, the physical volume of the national market was 1.77 billion pieces cut flowers. According to forecasts, by 2025 its physical volume will be more than 2 billion cut flowers. And the share of Russian production is 15%.
Over the years, much has changed. Including the physical v olume of the market and its condition. New Russian and foreign players entered the market. Innovative technologies are being introduced. New demands and opportunities have appeared.

In 2019 "FlowersExpo" was again chosen as a platform for a new discussion of an important topic for business.
At the round table discussion "The Russian flower market. Status and prospects " it is planned to discuss such important issues as " Volume, structure and dynamics of the market ", "How the Russian flower market has changed ", " What new participants have come and with what ", " Import share ", " Competitive and price market analysis ". And many others.
The review of the Russian flower market will be presented by the director of the marketing agency MegaResearch Elizaveta Sharipova.
An assessment of the state and development prospects of the Russian flower market will be made by:
• Edgar Narvaes - Director of the PRO Ecuador Trade Representation in Russia. The theme "Is Ecuador - the largest importer of flowers to Russia".
• Ilya Dombrovsky - CEO and founder of Astra Fund Holland BV. Theme "Russian flower market. Opportunities and challenges. View from Holland"
• Christina Uriquecia - Director of Proflora. Theme "Colombian Flowers in the Russian Market"
• Peter Kemei - Managing Director of Mzurrie Flowers. Theme "Kenyan roses on the Russian market"
• CEO of Subati Flowers. Theme "Russian flower market - a look from Kenya"
• Alexander Litvinenko - member of the board of director s of the Greenhouses of Russia Association. Theme "Domestic production of cut flowers: successes and problems"
• Anton Machelyuk - CEO and owner of the company "Flowers from Macelyuk". Theme "Specifics of the wholesale flower trade"
• Vadim Bogdanov - regional manager of the Russian company Potted. Theme "The main trends of the Russian flower market"

The round table will be attended by Alexei Sitnikov, deputy of the State Duma of the Russian Federation, president of the Association "Greenhouses of Russia".
The meeting is held on September 10 at 16.00 in Crocus Expo IEC, Pavilion No. 1, Conference Hall E.