The cultivation of tulips, which are in great demand in the Russian market, is increasing annually. To increase efficiency and quality, manufacturers are introducing innovative technologies. It was this decision that the Aten greenhouse from Orenburg took a participant in the FlowersExpo2019 exhibition.

Athena. dynamically developing enterprise, grows more than 3 million cut gerberas all year round, and from September to April 14 million tulips. Plus a wide range of potted and annual plants.

To improve the quality and successfully compete in the Athena tulip suppliers market, with the participation of a partner, Nova Agro acquired two TulipStar machines from Havatec, a world famous Russian manufacturer of machines for collecting, sorting, processing and forming cut flowers.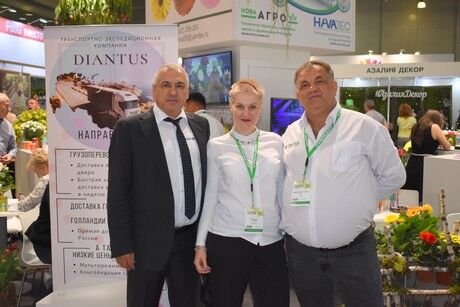 Antonio Santes (Havatec), Natalya Novikova (Hova Agro) and Andrei Reznik (Athena) at the FlowersExpo 2019.
"If five years ago we were told that we would sell two TulipStars in Russia in one year, we would not believe it," says Antonio Santes, Havatec manager. "But now it is." Russian manufacturers are showing great interest in serious automation. Market conditions have improved, and the Russians are ready to make such investments."

"We began to grow tulips for seven years,- says Andrei Reznik, director of Atena. - Started with 1.5 million stems per year. Production grew annually. Last year, 12.5 million tulips were shipped. Аnd in 2020 we plan to grow 14 million."

"To compete successfully," says Antonio Santes of Havatec,- manufacturers must innovate. Now we see that this applies to Russia as well."

This opinion is shared by Nova Agro CEO Natalya Novikova, a Havatec partner in the Russian market. As a supplier, she communicates a lot with manufacturers and knows the market well.

"We are seeing a significant increase in production, especially on the eve of the main spring holidays. Producers are already growing at least 10 million not only tulips, but also gerberas. And they, like Aten, are ready to make more serious investments."