Аlexander Brjuhins, Bilat Handel GmbH
Early spring has been a challenging period for many flower growers around the world, including for the Russian growers. March and April were tough months with lower demand, but from May onwards, the demand for flowers and in particular locally produced flowers started to increase. This is explained by Alexander Brjuhins of Bilat Handel who is representing Rosen Tantau and HilverdaFlorist in Russia, Ukraine and Belarus. Next week, when the FlowersExpo will be held (offline and online), some new roses of Rosen Tantau will be presented on the virtual platform.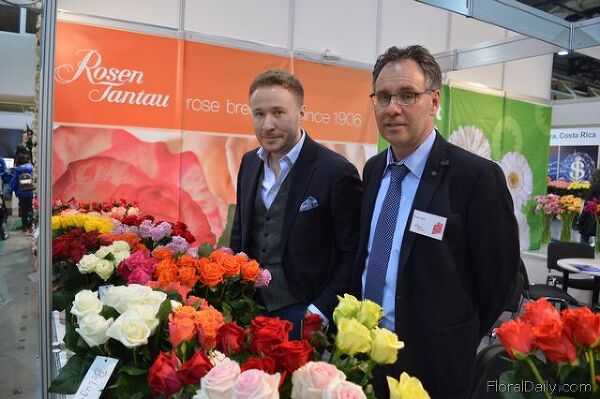 Alexander Brjuhins and Klaus Wolf of Rosen Tantay at one of the previous editions of FlowersExpo Moscow.

Lower imports - higher demand for local product
In the midst of the pandemic, in March and April, demand was low and there was a lack of capacity in the planes resulting in high air freight costs. However, after the lockdown, the demand started to rise, but the imports were not. "The rates were and are still quite high - and this, combined with the Russian people who may have demanded for even more flowers as being a flower-loving nation, pushed the demand for locally produced flowers."

Higher prices
Another reason for the increased demand for the local products are the higher prices of the imported flowers. "As the transportation costs are higher, the prices are higher as well. In turn this enables the local growers to partly raise their prices too."
September first - Day of Knowledge 
Yesterday, it was September 1st which means the Day of Knowledge in Russia. It marks the beginning of a new school year, celebrated by children giving flowers to their teachers. After relatively slow months - the first quarter of the year with Valentine's Day and Women's Day are the most important days for Russian growers - growers have been preparing for this further sales peak. "Also for this day, locally produced flowers were one of the main items bought."
Expansion plans
The general tendency is that the Russian floral industry will grow in the future, explains Brjuhins. "There are several plans from existing growers to expand their hectares of production - additionally new players recognize the potential and come into the market. However, it is not an easy environment to make investment decisions, as the situation is still quite uncertain, worldwide."
FlowersExpo Moscow
Next week, from September 8-10, the FlowersExpo Moscow will be held. This year, the exhibition will be held in an offline (in-person) and online format. Rosen Tantau will present several of their new varieties on the virtual platform. "Russian growers are always looking for something new and we have, for instance, some promising new red rose varieties to show."

Even though Brjuhins would have loved to participate in the in-person edition, he is still very pleased to participate in the virtual version.
"I really appreciate how the organizers established such a professional and easy to handle platform in such a relatively short time." 

Bilat Handel GmbH
www.bilathandel.de