Be it Russia or the US, there are not enough flowers, say producers and traders alike in both of these different, yet large and nonetheless closely related markets. However, to find one source providing you with detailed, up-to-date information on both of them at the same time, especially with regards to ongoing travel restrictions, is hard. De Ruiter, a Dutch international rose breeding company with customers in all corners of the world, is one such source. We talked to Marcelo Vallejo (general manager De Ruiter Ecuador) and Arjen Vlasman (area manager De Ruiter East Europe), who visited the International Flower Expo in Miami (16-18 Sept) and the Flowers Expo Moscow (13-15 Sept) about local market developments.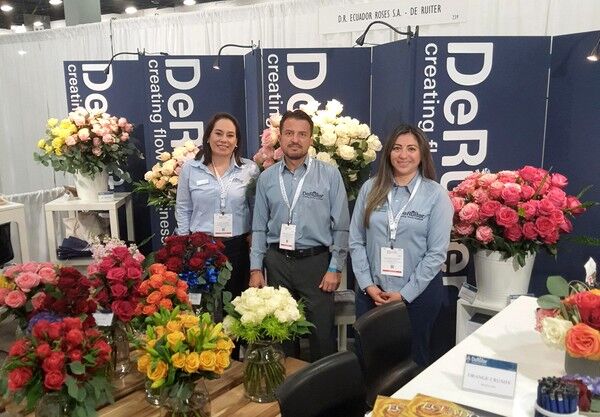 Left to right: Laura Fajardo (De Ruiter Colombia), Marcelo Vallejo and Elizabeth Muñoz (De Ruiter Ecuador).


As with any fair, the audience cannot truly be called international; around 700 retail visitors registered to visit the fair, but the actual turnout was lower. In Moscow, visitors consisted mostly of growers, traders, and florists, and almost entirely of Russians. Although this leaves some extra time for receiving people and visiting customers either at the fair or elsewhere, elsewhere, numbers are disappointing compared to other years.
Americas
Business, however, has been great. Marcelo: "This year will be the best of the past 15 years for our agency in Ecuador. A lot of internal and external factors are involved to get this high demand for our varieties from our customers in Colombia and Ecuador: the quality and performances of our roses, huge demand, growing e-commerce, and a new generation we call "Pandemials" buying more flowers. There are also new developments, such as Mexican growers who are changing from roses to, for example, peppers and tomatoes, Ecuador moving away from socialism, growers who want to invest again, etc. All these things come together, and for us to understand what is going on in the world, it is very important to attend any fair."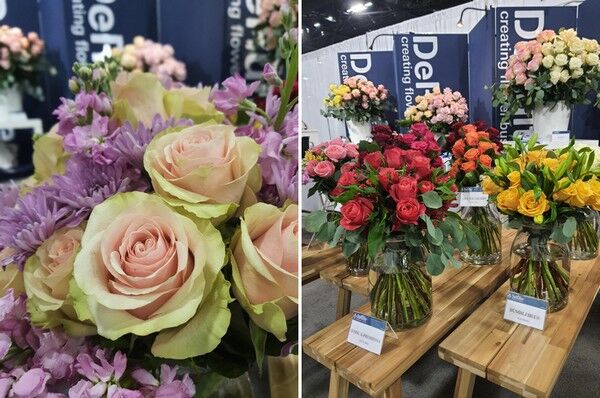 Beautiful Bouquets
"Over the last two years, demand for yellows and oranges grew in almost all segments. Also, the demand for garden types roses is amazingly high mainly because of wholesalers, retailers, and event planners. Bright colours in general are very important nowadays, in all segments and countries. The US and European markets alike got spoiled since the Russian crisis at the end of 2014, receiving more quality flowers from our Ecuadorian farms. Over the last years, these growers generally also improved on painted roses, preserved flowers, summer flowers, and more and more fillers, so their customers find a wider range of products at one farm."
Eastern Europe
Arjen Vlasman, on the other side of the globe, had a busy couple of weeks. "Because of Covid, it was not easy to get a visa. Once I got one, I decided to spend several weeks in Russia to visit all our customers there. It was definitely good to visit, especially considering the fact that it's been close to a year since we managed to make a tour like that."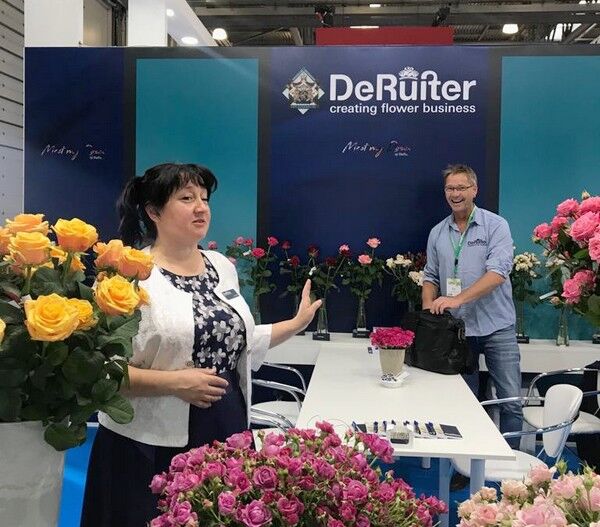 Arjen Vlasman (area manager) and Olga Aristova (De Ruiter Russia).


Although we wasted no time during the pandemic, visiting the Flowers Expo was definitely worth the wait. "We were the only rose breeder from the Netherlands, and, together with Tantau, the only foreign companies with roses. I didn't see any Africans or South Americans visiting, and there were hardly any people from Eastern European countries. A few of my customers came, one grower from Uzbekistan, one from Belarus and one from Armenia, but that's about it. By and large, visitors were Russians. It made you wonder, where did everybody else disappear to?"
Russian growers, however, did attend. "We did meet some people interested in or actually planning new projects, and in addition there were quite a few commercial companies walking about interested in (foreign) flowers. In absence of the Dutch Embassy and a 'Holland Pavilion' normally hosting fair attendances for Dutch companies, we took the initiative to organise a small reception and welcomed our customers and some other relations and friends."
As in North America, selling flowers in Russia today is not a problem. I haven't seen any full cooling facilities, no one seems to have any trouble sending out the entire stock. There are still far fewer flowers coming in from abroad as compared to the situation before Covid. In itself, that's good news for domestic production. How much that will be, and by whom and where, we will have to wait and see."
A lot to do
"However, not all the things are positive nowadays", Marcelo concludes. "Due to Covid, people are losing jobs and incomes, suppliers are closing their doors, patterns in logistics and demand are changing, and the whole chain is broken, not only in the roses business. This leaves our business with a lot of things to improve and to solve, like the cost of freights and product shortage, availability of rootstock, difficulty with the supply of greenhouse hardware, irrigation material, cardboard, etc. So we have a lot to do."
Royal De Ruiter
Author: Geert Peeters
www.deruiter.com