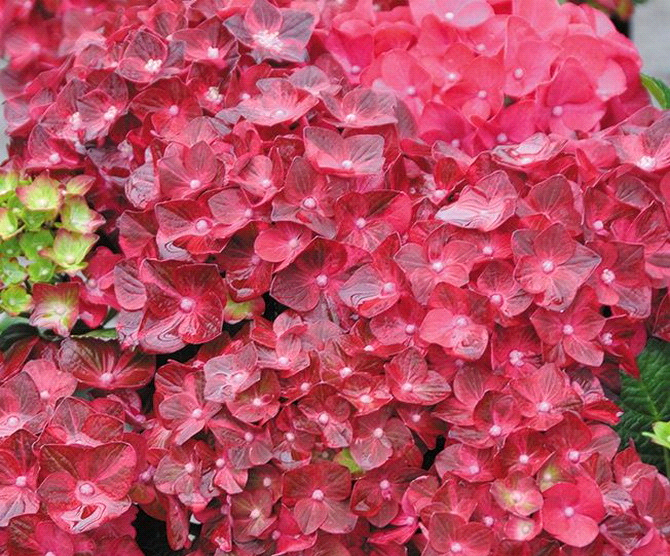 Collection presented by the company "Garden Collection Spring – 2016" includes a unique plant, hydrangea macrophylla (Hydrangea Ruby Tuesday).
It is a new compact variety from Magical series with bright dense hat-shaped inflorescences. Only open flowers have a bright color of a green apple with purple spots on petal tips.
Gradually the purple color replaces the green one. In the end the flowers acquire bright cowberry color diluted by brown stripes and strokes, just "cowberries in chocolate"!
The height of hydrangea "Ruby Tuesday" is up to 1 m, fluorescence period: June – September
And what is most important, it withstands frosts up to minus 29º C, and produces flowers on the shoots of the current year.
There is one more novelty in the "Garden Collection Spring – 2016" of "Russian Ogorod – NK". It is Dahlia Crazy Legs. It is a high dahlia, growing up to 110-130 cm. with a fluorescence period from July to October and profuse blooms. Flowers have amazingly delicate peach color with carmine color stripes which look like forks of flame creating fantastic contrast. They are ideal as high garden plants, and are a wonderful addition to an autumn flower garden.

The motto of the company is "The best of the possible!" It is the only Russian company which has its own demonstration plot in Keukenhof Park, the Netherlands. It is a historic royal park with an area of 32 ha where 7 million bulbs of different varieties of flowers are planted annually.
Today "Russian Ogorod – NK" is company No. 1 in volume of seed production for amateur gardeners. As of today there were produced and marketed over 1 billion packages with seeds.
The quality of seeds is so high that seeds produced by the company were chosen to conduct experiments aboard "Mir" orbital station.
"Russian Ogorod – NK" will present its collection of "masterpieces" 13-15 September, 2016 at "FlowersExpo'2016" in the International Exhibition Center "Crocus Expo".
www.flowers-expo.ru / www.rusogorod.ru