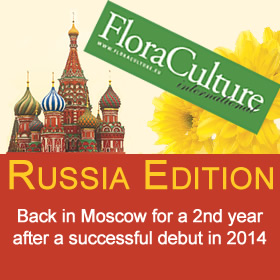 Amsterdam/Moscow
Russia's leading International flower exhibition «FlowersExpo», event organizer Exhibition Company "GreenExpo", Russia, and a reputable professional magazine "FloraCulture International", Holland, are pleased to announce the 2nd special edition of the FlowerEXPOsure magazine.
 "FlowersEXPOsure" showcases on its pages the very best worldwide floriculture has to offer with editorials including interviews with the management of "FlowersExpo", articles about the largest companies participating in the show. The magazine   gives the visitors tips where to find products and producers they need to establish business contacts with,   information about topical events of the exhibition business program and publishes an exhibitors' list.
" FlowersEXPOsure" will be distributed predominantly to industry professionals including  over 15 000 buyers from all main regions of Russia and hundreds of Russian towns and cities.  
"FlowersEXPOsure"   offers a unique opportunity to promote your company and your products among consumers of the Russian flower market.
Exhibition Company "GreenExpo", show Organizer, expresses its deep gratitude to all those who despite the crisis once again opted for "FlowersExpo" and, therefore,  the Russian flowers market for successful development of their business. 
Every success! See you at "FlowersExpo'2016!