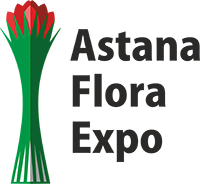 Is there a word which can picturesquely and most fully tell us about a spring revealing all shades of this bright festival of the sun? Of course this word is flowers in their magnificent diversity.
For the Kazakh capital this bright spring festival took place on April 12 with the inauguration of the 8th International exhibition of floriculture and landscape design "AstanaFloraExpo'2017", a joint project of exhibition companies "AstanaExpo-KZ", Kazakhstan, and "GreenExpo", Russia.
Flowers from Holland, Ecuador, Italy, trees and shrubs from European nurseries adorned the exhibition halls these spring days.
About 100 companies from Holland, Belgium, Italy, Colombia, Russia, Spain, Poland and Ecuador participate in the project of 2017.
Among participants there are the largest Kazakh and international producers of cut flowers, company specializing in landscaping, seed companies and nurseries, floral design studios.
Cut and pot flowers, products from ornamental and fruit nurseries, seeds, flower bulbs, equipment and materials for floriculture and ornamental gardening are displayed at the exhibition stands.
Demonstrating the world progress in floriculture and landscaping "AstanaFloraExpo'2107" opens excellent opportunities for its participants to promote their products and services on the emerging market of Kazakhstan.
The exhibition business program arouses great interest of the sector professionals. In its frameworks there is a very important event for the green sector of the Republic, Scientific and Practical Conference "Green Sector of Kazakhstan, Achievements and Prospects"
More then 100 representatives of the green sector of Kazakhstan, Russia and Europe take part in the conference held for the third time.
One more significant professional event creates a festive atmosphere. It is the 4th National Championship on Professional Floristics with a beautiful name Altyn Gul, i.e. Gold Flower.
On its first day the exhibition was visited by representatives of republican departments and agencies, top managers and specialists from large Kazakh companies and research institutions, professionals working in the field of floriculture, garden construction, gardening and landscape design, as well as guests from abroad.
International exhibition "AstanaFloraExpo" is not only a successful business platform but also a bright event in the life of the young Kazakh capital Astana.
www.flowers-expo.ru / www.astanaflorexpo.kz
PHOTO GALLERY