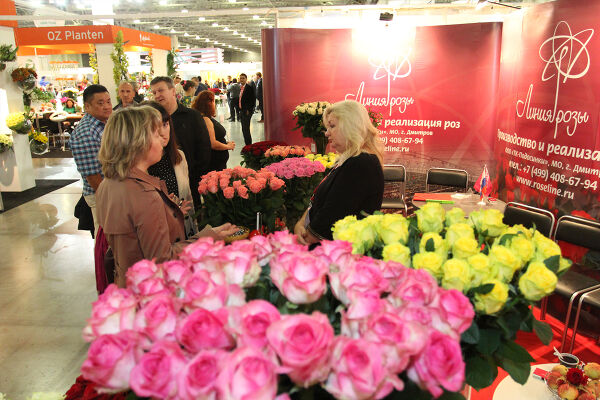 The International exhibition "FlowersExpo" has long become a traditional venue where the largest Russian growers present their products.
They are producers and year-round suppliers of cut and pot roses to the Russian market.
Among them there is a greenhouse complex Podosinki ("Linia Rosy"), Moscow region (Stand F151). The complex' products were first displayed at the International Competition "International Grower of the Year'2017" held annually by the International Association of Horticultural Producers (AIPH). The complex and was the third after China and Holland.
Unique brand "Mokshanski Rosy" was presented by a greenhouse complex from Penza region (Stand C 452). On 24 ha they grow 40 varieties of the most demanded roses on the market. At present the greenhouse complex "Mokshanski" is one of the largest rosaries of the country.
Company "New Holland", St. Petersburg (Stand F 100), is also an exhibition participant. It supplies roses produced by the latest Dutch technology into all Russian regions. In the nearest future the company is going to expand the assortment diversifying its production.
"Green House", Republic of Adygea (Stand K 150), cooperating with Dutch and German breeding companies, was the first in southern Russia to grow roses of "Rozen Tantau" selection (Germany).
"Feya Rozy", Kaluga region (Stand F 152), grows and supplies premium "Fragrant and Romantic) roses of French selection to the Russian market.
"Group of Companies Gorkunov" is going to present at the exhibition a world known brand pot rose "Rose Korda" (Stand G 252). Its production was launched thanks to cooperation with German, Dutch and Danish partners.
High quality floral products (cut and pot flowers) are also displayed by "Galantus", Kaluga (Stand B 152); "Flowers of Udmurtia", Republic of Udmurtia (Stand B 302), and Egorievskiy Greenhouse Complex, Moscow region (Stand L152).
Active participation of Russian producers in "FlowersExpo'2017" is an excellent evidence of the potential of the local production and its significant role for the country's economy.
Russian growers of floral products invite all potential consumers and partners to visit "FlowersExpo'2017", International Exhibition Center "Crocus Expo", Pavilion No.1, Hall 3, 12-14 September.