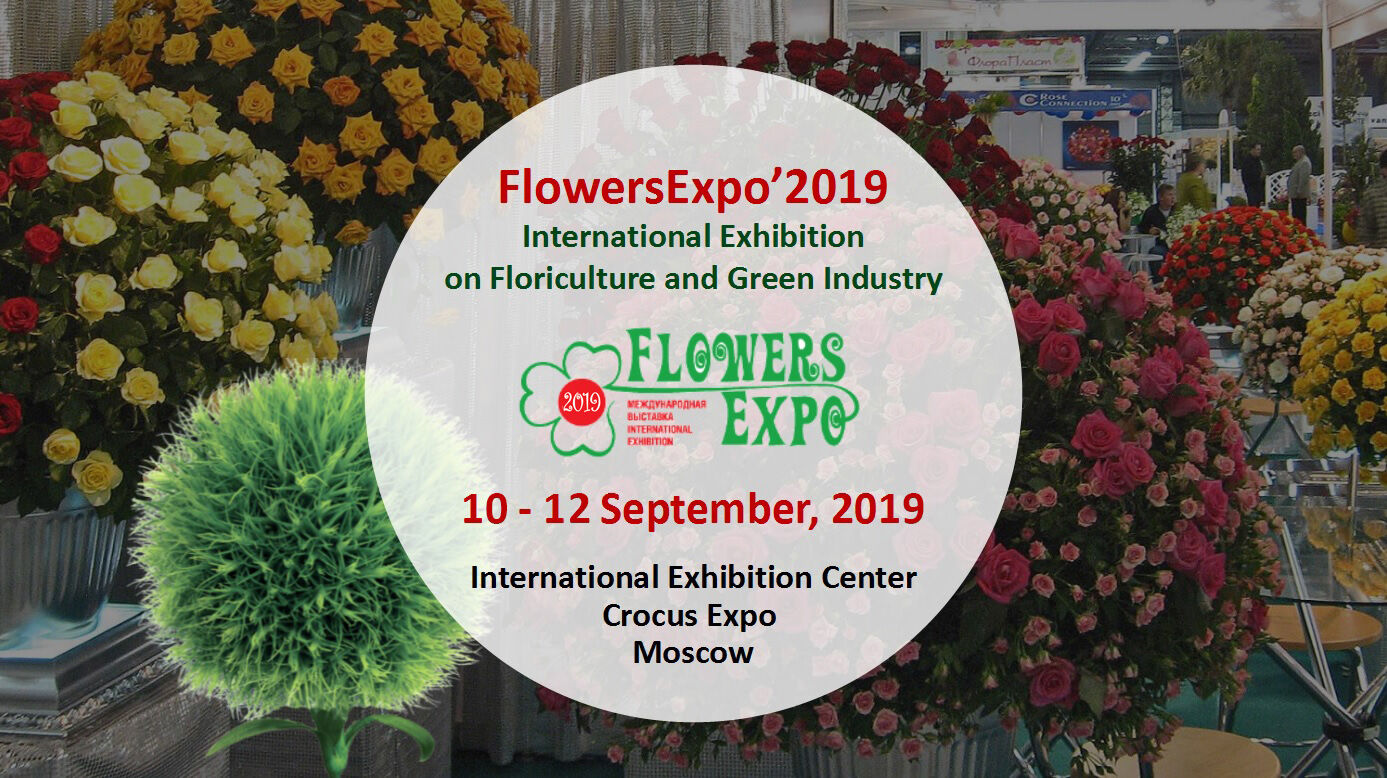 Dear exhibitors and visitors, partners, friends!
From 10 to 12 September in Moscow, Crocus Expo IEC will host the largest Russian Trade Fair "FlowersExpo", in which participate representatives of the flower industry of the world.
The proekt "FlowersExpo" is a B2B class fair, an important business forum and a successful business project for the Russian market and all international community.
The high level of the event is confirmed by the sign of the Russian Union of Exhibitions and Fairs as an evidence of a special significance of the project for Russian economy and the best exhibition of Russia in this sector. And it also received a status of the "UFI Approved Event" as confirmation of the international recognition and its importance for the world market of flowers and plants.
Тhe project demonstrates good dynamics. In 2018 420 companies from 30 countries, more than 5 000 world professionals and experts.
Interest to the fair of the Russian participants increases each year indicating successful recovery of the sector from the crisis of recent years. In the Trade Fair "FlowersExpo'2018" 190 Russian companies participate, which is 12% more than in the previous one.
At the exhibition were presented all sections of this important sector of the domestic economy. Flower production - 50%. Seeds, planting stock, nursery products - 24%. Floristics and landscape - 11%. Technologies and equipment - 8%. Accompanying products-7%.
Business visitors came from 240 Russian cities and 45 countries. Professionals appreciate it for high concentration of participants and visitors, efficiency, wide representation of leaders of the domestic and world market.
The first to participate in the project FlowersExpo-2019 declared the world's area leaders Holland, Germany, Colombia, Ecuador, as well as the companies of Israel, Kenya, China, Poland, France and other countries.
The first to announce their participation in the 2019 project and the world's area leaders Holland, Germany, Colombia, Ecuador, as well as the companies of Israel, Kenya, China, Poland, France and other countries.
The largest Russian producers of cut flowers, seed companies, nurseries, operators and wholesalers of the Russian flower market, suppliers of floristic products, equipment for greenhouse complexes and garden centers announced participation in the "FlowersExpo" in 2019.
Participation in the exhibition "FlowersExpo'2019" will provide you with a good opportunity for extensive business contacts, meetings with new suppliers and customers, successful promotion of your products, increasing customer base and sales effectiveness.
We will try to make the exhibition bring to all participants the prospects of business expansion and good commercial results!

Applications, documents, conditions of participation, news on the website of the exhibition www.flowers-expo.ru.
We invite you to participate in the exhibition
"FlowersExpo'2019"!
Be where your customers, customers, partners and
competitors will be!
******************************
Trade Fair "FlowersExpo-2018"
Photo  Gallery
Presentation