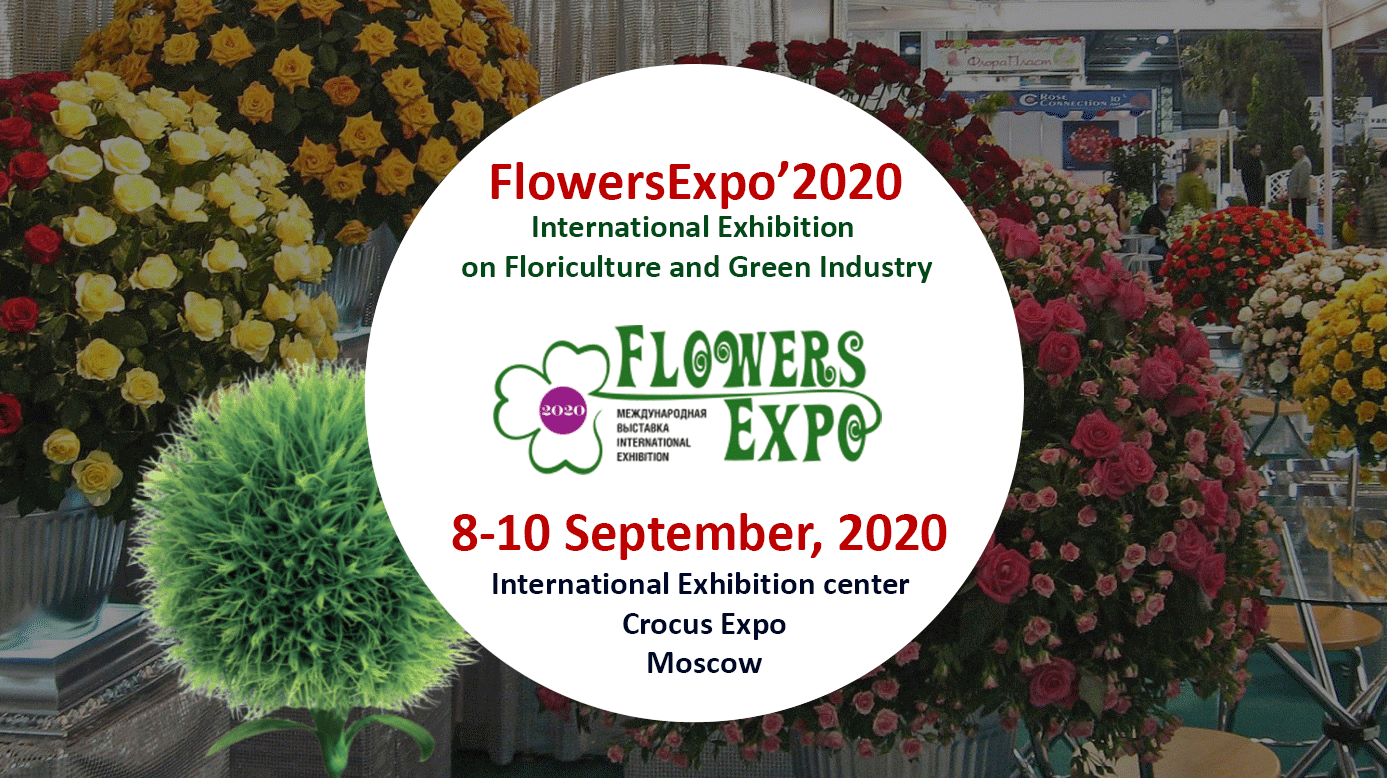 Dear exhibitors and visitors, partners, friends!
We invite you to participate in the X international exhibition of flowers, plants, equipment and technologies for floriculture and landscape design "FlowersExpo'2020". Dates of its holding are September 8-10 2020. The venue is the Crocus Expo International Exhibition Center.
"FlowersExpo" is a successful B2B business project. The exhibition rightfully earned the status of a major event for representatives of the world and Russian flower industry. The participants are attracted by the size of the Russian flower and plant market, the potential volume of which experts estimate at $ 40 billion.
The exhibition "FlowersExpo" annually brings together the largest Russian and foreign companies from many countries of the world, who are highly value market demands and the role of the fair in business development.
In 2019 in "FlowersExpo" participated 456 companies from 30 countries, more than 5 000 world professionals and experts. Тhe project showed significant growth: by 10% in the number of participants and by 15% increase in area.
At the exhibition were presented all sections of this important sector of the domestic economy. Flower production - 50%. Seeds, planting stock, nursery products - 25%. Floristics and design - 15%. Technologies and equipment - 6. Accompanying products - 4%.
The number of Russian participants has increased by 15%, which evidences the successful overcoming of the crisis of the recent years and further strengthening of the market.
Among the show participants were exhibitors from 35 Russian regions: including the greenhouse complexes cut flowers, nurseries, largest seed companies, developers of equipment, suppliers of fertilizers, grounds, products for floral design and landscape.
The exhibition was visited specialists and representatives of business circles from 75 regions of Russia, 370 large and small Russian cities. 88% of them were businessmen, distributors, buyers, owners of companies and enterprises.
Foreign guests arrived 40 countries. Was visited on an official visit by Government delegation of Venezuelathe, delegations of flower manufacturers Associations China and India.
Russian and foreign exhibitors "FlowersExpo2019", confirming the importance of this project for their business, already during the show announced their participation in this successful event in 2020.
The first to participate in the 2020 project were the world market leaders: the Netherlands, Germany, Colombia and Ecuador.
Participation was announced by companies from Belgium, Belarus, Denmark, Israel, Italy, China, Kenya, Korea, Poland, France, Japan.
Exhibition space was reserved by Russian companies, including the largest producers of flowers, seeds, planting stock, operators and buyers of the domestic market.
The trade Fair "FlowersExpo'2020" – your Key to Russian Market. Be where your buyers, customers, partners and competitors will be!
In 2020 we again invite you in Moscow to
"FlowersExpo'2020",
the main Trade Fair for your business in Russia!
***************  
Film FlowersExpo 2019
***************  
FlowersExpo Moscow 2019 Photo Gallery
FlowersExpo Moscow 2019 Рhoto report FloralDaily
***************